Autotune emerged initially in 1997, as a means for correcting off-key vocals in studio recordings. In the ensuing years since then, it has become a staple of modern pop and alternative music, sometimes for better, sometimes for worse. Traditionalists are understandably vocal in their unadulterated disdain for the tool; it's hard to argue with the notion that a professional singer really should not require any alteration to their recorded vocals. Or their live vocals, for that matter. Regularly though, autotune is used to make an almost robotic effect on vocals, as a desired portion of the finished product.
While working with Cher on the song "Believe" in 1998, producers Mark Taylor and Brian Rawling discovered that if they set Auto-Tune on its most aggressive setting, so that it corrected the pitch at the exact moment it received the signal, the result was an unsettlingly robotic tone.
Personally, I can see both sides of the argument. Autotuned music can sound positively awful, but on the other hand, when used in moderation as a means to heighten the overall experience of a particular song, it can work brilliantly. In light of all that, here are 5 of the worst examples of autotune in music vs. 5 of the best.
Thanks to Edel for the idea of this article.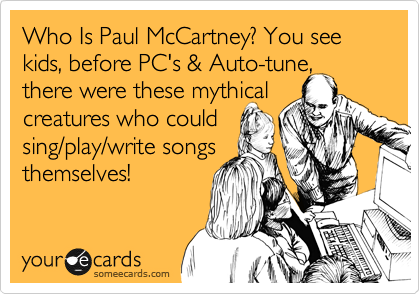 The 5 Worst Uses of Autotune:
05. Cher – Believe
Okay, so Cher's 1998 single is largely credited with introducing autotune to the world, being the first known song to use the aforementioned aggresive setting to attain that somewhat robotic sound, but still. This song is incredibly catchy, and the absolute personification of an earworm, but it's also incredibly annoying. The autotune effect in the track may be relatively conservative, especially compared to a lot of other uses of the tool these days, but it still makes an already irritating song even more annoying.
04. Rebecca Black – Friday
To be honest, I almost didn't include this one, because of the overwhelming negative reaction it has already gained since it was unleashed upon the world. Rebecca Black was only 13 at the time, so she really should've been cut some slack. Her mother was, as Adam Buxton eloquently put it, "Justifiably furious" with some of the bile that presented itself online. Nevertheless, it is pretty dreadful, and still deserves its place on this list.
03. Akon – I'm So Paid 
Aside from Akon's 2003 (s)hit 
Lonely, 
I'll admit I'm relatively unfamiliar with his work. This song doesn't inspire me to investigate any further though. The autotune on the song makes his already terrible, nasally voice even more irritating. An absolutely awful, dreadful piece of detritus.
1990's Eurodance is a largely woeful genre to begin with, with this song being one of the prime examples of why it's best left exactly where it started – in the past. With the lyrics equivalent to that of a drunken 10 year old, once again the autotuned vocals deprecate an already bad song to a positively terrible one.
01. Black Eyed Peas – I Gotta Feeling
This may be hard to believe but Black Eyed Peas were once a
genuinely great
 hip-hop group. At some point though, they decided to sell the fuck out, and since 2003, they've had a plethora of insanely terrible singles polluting the airwaves of commercial radio, and alienating any fans they had earned in their initial years as a group. This is the worst offender among these said singles, and possibly one of the most infuriatingly awful pop songs of all time. The lyrics seem to come from someone who looked up the term "Pop Single" in a guide for idiots on the subject, and applied the most pathetically basic notions of chart music and lyrics in the tracks composition. The horrendous auto-tune makes the song even more fake and synthetic than the lyrics had already ensured it would be. I still vividly remember the very first time I heard this piece of shit in a club in Dublin city centre, and I still die a little inside every time I'm forced to endure it.
The 5 Best Uses of Autotune:
05. Daft Punk – One More Time
For Daft Punk's sophomore album Discovery, they opted to go for a more melodic approach to their work compared to their debut album Homework. Romanthony's vocals are heavily autotuned, but Daft Punk manage to get away with it, given the overall robotic overtones on the song and indeed on the album as a whole. It's far from being their best work, but it's still very much a fine example of an exemplary use of autotune.
04. Sufjan Stevens – Impossible Soul
Not only can Sufjan Stevens sing without the use of autotune, he actually possesses one of the most incredibly beautiful voices in modern music today. During the epic 25 minute closing track on his Age of Adz album, he opts for autotune at around the 10 minute mark. Luckily, it doesn't feel out of place; the whole record is laden with synths and keyboards. In fact, several digital, somewhat futuristic flourishes scattered throughout the LP. This all comes to an alarmingly gargantuan conclusion on Impossible Soul.
03. Super Furry Animals – Juxtapozed With U
If there's one band that can make autotune work to their advantage, it's psychedelic legends Super Furry Animals. The autotune is used only on the verses and much like Sufjan Stevens' aforementioned track, its use only serves to make for a more futuristic sounding work. It also results in the chorus sounding that much more emotional and heartfelt after the robotic sounding verses.
02. Hot Chip – I Feel Better
One of Hot Chip's finest singles, the autotuned vocals during the verses of I Feel Better serve to elevate rather than condemn the song, much like the previously mentioned Super Furry Animals track. Similar to a lot of Daft Punk's work, the robotic vocals actually manage to add more humanity and emotion to an already gorgeous song.
01. Kanye West – Runaway
I have 
previously mentioned
 an aversion to quite a bit of Kanye West's autotuned music, but 
Runaway
is one major exception. It's taken from his best album, and it's arguably the best song on the LP overall. The outro lasts for around 3 minutes and consists of distorted, autotuned vocals, accompanied by a string section and a one-note piano melody. Somehow, miraculously, the outro never outstays its welcome. In fact, it actually manages to be one of the most emotionally charged, satisfying portions of an already magnificent album.