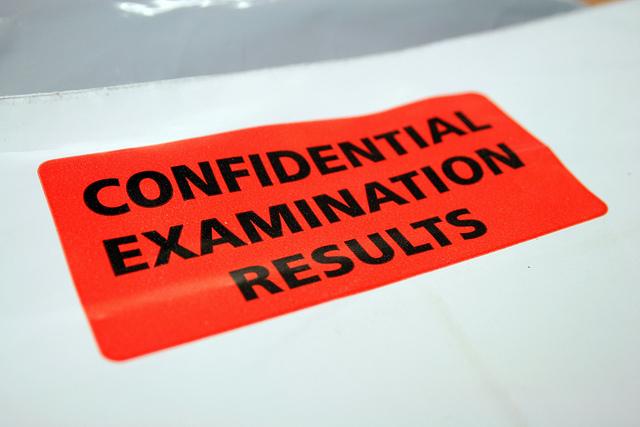 No one ever forgets those dreaded weeks in June where our entire lives are paused, ready for commencement.
There is a cacophony of emotions thrown in for good measure. I remember despite being terrified of failing Maths, I had a constant flurry in my stomach every time I thought about finishing.
Well, that was eleven years ago. I still don't know what I want to do with my life, and the Leaving Cert did very little other than cement the fact that a) I like words and b) I hate numbers. The pressure it puts teenagers under is something I personally do NOT agree with. However it is an experience that most of us go through, a rite of passage in a way.  Here is my personal list of some of the many memories I have from my Leaving Cert 2004:
1: The Build Up
It seemed in my school anyway, for about two months before the exams, the entire idea of order went thoroughly out the window .Think Lord of the Flies meets Beverly Hills 90210.
Blame the weather, hormones, or the sweet, sweet taste of freedom lingering in the hallways. Either way, never before had school been so much fun. Uniforms became optional (at least in my mind), people ambled around occasionally meandering into classes. It was as if our teachers felt sorry for us, knowing we were about to embark on a gruelling test of our very being, so became extremely lenient. They knew they would miss us all terribly.
2: The Last Day of School. EVER!
This was a day of mixed emotions for me. I knew I would still see all the people I wanted to (and still do. Lucky me!) but I was actually quite upset about finishing. I had enjoyed my two and half years spent in my second school. I had come out of a horrible teenage experience, into a relatively (albeit crazy) happy 18 year old. I had friends like I never had before, and felt accepted, even if it was by all the wonderful weirdos I met. Leaving all this was scary – and the last day of school was an emotional roller-coaster of "I'm not ready's" and "Get me out of here's".
Of course there was the signing of shirts, Journals and obligatory destroying of property that go hand in hand with the completion of one's secondary school life. Some darling who shall remain nameless ripped the pocket off my shirt ('twas the style at the time), but also managed to rip all the stitching leaving a big gaping hole. Needless to say my jumper was worn for the rest of that summer's day.
3: Those "Limbo" weeks before the exams.
I turned 18 a month before my Leaving Cert. It was the moment I had been waiting for, and absolutely no exam was going to stop me enjoying my passport and vodka.
I managed to squeeze in a small amount of panicked study into my hectic social life. But.. I haven't seen this before? Have I? The Austro-Hungarian WHAT now? How many essays do I have to know? Ah yes, even I, who was laid-back about my school-work, did have the occasional freak out, coupled with chain smoking, and furious texts to friends: "R U Screwed 2?WTF! Rly wish I'd studied! Can't wait to go out after!! 😀 WB XXX" etc. The Limbo was a strange time for all involved – we were no longer in school, but freedom still seemed so far away.
4: The Beginning
I was relatively nervous about English. Not because I wasn't good at it (I was) but because I was extremely lazy, and spent more time trying to predict what poets would come up, rather than actually studying them.
I got lucky. Really lucky. Maybe all my Granny's prayers to the Patron Saint of exams  (does that even exist?) paid off. I'm a dab hand at waffle (as you may have gathered)so Paper One was a cinch. And Paper Two was a blur, but all I know is I managed to keep writing. Remember Leaving Cert writer's hand? I'm surprised we didn't all get Carpol Tunnel syndrome, especially those of us sitting History with the SEVEN essays we had to write.
I managed to survive without a panic attack, or crying. But that is not to be said for all. I saw some very calm people utterly fall to pieces because of the state exams. Stress levels are running so high, and sometimes even the Rescue Remedy isn't enough (did anyone else notice how it tastes just like whiskey?)
5: The one "I'm definitely going to fail".
We all had one subject that could bring us to tears or the verge of a nervous breakdown at the drop of a hat, or in my case, the Radius of a Circle. WHO ACTUALLY CARES! Anyway, Maths was my downfall. My teacher hated me, and I didn't have a book. Yeah, I was fairly dismal. And I will never forget sitting on my bed the night before my maths exams, crying. Knowing that I knew nothing and there was absolutely nothing I could do about it.
I left both exams after about an hour, with several other maths-retards. We stood outside, staring into space, smoking and contemplating our options now that our lives were officially over because we had failed one of the most important exams.
History was another story altogether, and I fondly remember myself and another girl burning our history notes in a drain outside the assembly hall. The care taker came over to us and honestly, we didn't even care. I had completed one of the most gruelling three hours of my life and as far as I was concerned he was lucky I was only burning my notes and not the school or myself.
6: Those people doing the weird subjects.
I chose a normal set of subjects and finished within two weeks. Unlike those poor geniuses who chose the likes of Applied Maths or Latin. For their intelligence, they were subjected to another couple of weeks with their heads in their very large and confusing books, watching their friends finish up, and go out on the bender to end all benders.
There was a constant stream of my friends finishing. I was one of the first finished, so celebrated the end of the Leaving Cert several times.
When they were all finally over, there was a sort of anti-climax. Oh, that's all done now. Well, better get a job and enjoy our first Summer as "adults".
7: The waiting
The waiting got to me a small bit. I didn't think it would, but every now and again I found myself drifting off, trying to calculate my results in my head; Sometimes being overly generous and others just downright depressing. The Summer flew by though, of course. On D Day, I got a lift to the school with a friend, and in a blur of excitement and nerves I received my very average but probably better than I deserved results and the celebrations commenced. I'm still convinced my D2 in maths was down to some sort of cosmic force or marking error.
I think looking back, I was probably more concerned about where we were going on results night, than my actual grades.
Best of luck to everyone getting the results of these out-dated, memory tests. They mean nothing, but the piss up afterwards is deadly.
<3