Professional wrestling has the unique ability to captivate people of all ages. Think of you're average wrestling fan. Some of you are thinking of a drunken lout with "Austin 3:16" written across his Budweiser filled belly. Some of you are thinking of a little old woman flipping off Hulk Hogan (in light of Hogans recent actions who can blame her?) But a lot of you probably have an image of a little kid with their John Cena headband on giving the "you can't see me sign". Whatever you're imagining is all true, as such is the vastness of the pro wrestling phenomenon.
Here we take a look at some of the pro wrestlers that have graced the squared circle over the years that are are no longer with us. Even if you haven't watched it in ten or twenty years, there will be some names you recognise.
1. Ravishing Rick Rude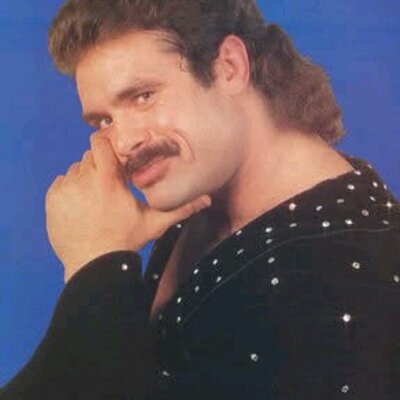 Instantly recognisable by his signature mustache, long flowing hair and brash demeanor, Rick Rude was a familiar face throughout the 80's and 90's in WWF (now WWE) and WCW. He even appeared on ECW television for a short stint showing how versatile he was, fitting in to just about any locker room. In 1999, while training for a return to the ring, Rude died from heart failure at the age of 40.
2. Road Warrior Hawk
When the familiar tune of "WHAAATT A RUUSSSHH!!" echoed through the arena, you knew shit was gonna go down. One half of arguably the greatest tag teams of the 80's and 90's, along side his fellow Road Warrior Animal, Hawk was a spectacle of a man as he came to the ring with spikes on his shoulders. Think about that for a second, spikes on his shoulders. Who wants to fuck with a guy who's got spikes on his anything. And when you were hoisted up on Animals shoulders and Hawk came at you from the top rope, it was good night Irene. Hawk died of a heart attack in 2003. He was writing a book about his career at the time.
3. Ultimate Warrior
The Ultimate Warrior was probably the biggest name in sports entertainment throughout the 80's and early 90's. The tassels, the face paint, the body builder physique and the wild music. Everything about Warrior personified charisma and domination. In fact, he was so cool, that in 1993, he legally changed his name to "Warrior". How fucking cool is that? Not even Warrior Helwig (his birth surname) or say, Warrior Murphy, just Warrior. Why? Because he's the Ultimate Warrior that's why! No-one was going to tell the Ultimate Warrior what to do. As wrestling legends go, Warrior is definitely one of the greats. Throughout his career he won numerous titles, appeared in numerous promotions and to top it all off, he beat Hulk Hogan at Wrestlemania VI to win both the WWF title AND the WWF Intercontinental title, and achievement which still has not been accomplished by anyone to this day. After many years of dispute with the WWF and it's president Vince McMahon, Warrior left WWF in 1996 and would not return until his Hall of Fame induction in 2014. The night after Warrior gave a speech about how no man becomes a legend on his own and how one day every man's heart beats its final beat. In an eerie turn, his life would come to a tragic that same night when he collapsed in the car park after suffering from a heart attack.
4. Bam Bam Bigelow 
Bam Bam Bigelow was a true behemoth during his run in the WWF. With his flame emblazoned singlet, callous eyes and tattoos, most notably of which on his head. That's right, the guy had a tattoo  on his entire scalp. That's as bad ass as they come. Although Bigelow dominated the ranks in WWF, he continued to do the same in WCW, NJPW and in ECW where he proved to everyone that he was as tough as the next chair wielding, tattoo headed, mean staring maniac. Oh wait, there was none. Bam Bam had a unique look and even more unique style, as unlike many men his size, he could hold his own with the high fliers as he jumped from the top rope with ease. In 2007 Bigelow died at his home in Florida after what was ruled as a combination of mixed drugs in his system leading to heart failure.
5. Doink the Clown.
I have a confession to make, this was by far the hardest one to talk about. Not because I'm a massive Doink fan. Oh no. I'm shit scared of clowns. You have no idea how hard it was for me to Google the evil 'C' word but none the less I struggle on. Doink the clown was brought in to the WWF during a time where most of the characters appeared to be fairly, cartoony. He appealed to a younger audience, and brought a level of humour that, in an ever changing environment was an interesting break from the usual "Good vs Evil" story. His clown antics went as far as having a midget look a like named Dink. As is sometimes the done thing in wrestling where a masked or disguised character leaves, dies or is fired, the original Doink, Matt Osbourne was replaced by Ray Apollo, due to continuous drug offences. Osborne would appear sporadically in WWE until his tragic death in 2013 from an overdose of morphine.
6. Luna Vachon 
Now, I'm terrified of your average woman. So it's no surprise that as a child Luna Vachon scared the ever living shit out of me. Who wouldn't be scared of a woman with a croaky voice and veins on the side of her face, painted or otherwise. Never the less Luna, the daughter of legendary wrestler "Mad Dog Vachon" brought a much needed different take on the womens division. Her feuds  with Alundra Blayze are the most well known Womens matches of the era, and Luna was even creditied with bringing the even scarier Bull Nakano to WWF. In the late 90's Luna returned to WWF as the manager of Goldust, Luna passed away in August 2010 from an overdose of Oxycodone. She was buried at a ranch formerly owned by her godfather Andre The Giant.
7. Big Boss Man
During the time where WWF were taking every day jobs and turning them into superstars (e.g. Duke "The Dumpster Droese" a garbage man, and Irwin R. Schyster a tax man) one stood out among the rest. He wore cool shades, was a former correctional officer and loved to kick ass. No, not The Mountie. The Big Boss Man started out in WWF by handcuffing his opponents to the ring post and beating the shit out of them with a nightstick. Proper prison style. After a while he became good, sided with Hulk Hogan and as expected fell into the background. He jumped ship to WCW where he has a mediocre run. In 1998 he returned, ditching his blue shirt for an all black attire, with bullet proof vest and gloves to boot. The Hogan loving Boss Man was out, and the new deadlier than ever officer was back. He became the bodyguard to Mr. McMahon and his Corporation stable, leading him to get on the bad side of The Undertaker, eventually leading him to be hung, and yes that's the Tom Dooley kind of hung, from a steel cage (well Hell in a Cell but you get the picture). Boss Man remained a prominent figure during the Attitude Era, winning the Hardcore Title on four occasions. Big Boss Man died from a heart attack in 2004.
8. Yokozuna
Yokozuna was a member of one of wrestlings greatest family, the Samoan Anoa'i family. Although billed as a Japanese Sumo wrestler, with Mr. Fuji as his manager, Yokozuna was 100% Samoan. It wasn't long before he made an impact in the WWF by winning the 1993 Royal Rumble. He won the WWF title 173 days after his debut. His signature move "The Banzai Drop" accompanied by the yelling of "BANZAI!!" was a devastating finisher in which the 500 plus pounder would drop all his weight on the chest of the opponent below. Yokozuna passed away at the age of 34 in 2000 as a result of a pulmonary edema.
9. "The Macho Man" Randy Savage
"OOOOHHHHHHH YYYYEEEAAHHHHHH!!!" That was the familiar call of "The Macho Man" Randy Savage. A true legend and hero of wrestling worldwide. From his humble beginnings as a baseball player to the elbow droppin' Macho Madness, Randy Savage was a versatile athlete and had the skills on the mic that is unrivalled to this day. Whenever he came to the ring, Savage had two things. His multicoloured outfits that would put anyone to shame, and his trusted manager and wife, Miss Elizabeth. Over his career savage has held numerous titles. He even appeared in several movies, most notably as "Bonesaw McGraw" in 2002's Spiderman. Savage had a career that spand many promotions, including WWF and WCW where he gained most fame and accomplishments. It was his stint as one half of the "Mega Powers" with Hulk Hogan that sky-rocketed his career. However after suspecting there was more than meets the eye to Elizabeth and Hogans relationship, Savage became jealous and attacked Hogan, which led to their epic battle at Wrestlemania V, ending in Savage losing to Hogan. Whichever side you were on, it was clear that although Hogan had the millions of Hulkamaniacs on his side, nothing could compare to Savages style and panache. In may 2011, which driving, Savage suffered a fatal heart attack and died. A post mortem revealed that Savage had an enlarged heart and was not aware of any problems.
10. "Rowdy" Roddy Piper
Roddy Piper was one in a million. Not only could he talk a pretty damn good talk, but he could walk a pretty damn good walk. Not only did he kick ass but he did it while wearing a kilt. In probably one of his most famous interviews on his talk show "Pipers Pit" he smashed a coconut over the head of Jimmy Snuka. The dude was a legitimate bad ass. Even in the movies Piper was a bad ass. You know that famous line, "I have come here to chew bubblegum and kick ass, and I'm all out of bubblegum". That was him in 1988's "They Live". Movies or mat, there was no-one who could throw down like Hot Rod. He didn't need flashy gimmicks or terrifying entrance music. When Roddy Piper came to the ring there was two things you could do.
1. Get your ass kicked
2. Like it.
As many people found out he was a formidable opponent who very few could best. Even at the age of 54 he marched to the ring in the 2008 Royal Rumble to raise hell. Although he eventually was eliminated, he made sporadic appearances in WWE, usually to revive Pipers Pit. It is unquestionable Piper is a true legend and well deserved Hall of Famer. Much to the dismay of wrestling fans worldwide, young and old, Rowdy Roddy Piper passed away at the age of 61 due to a heart attack.